For partner information, please click here.


Screenshots from playing

Collecting ingredients and other prizes in traffic exchanges
User can find 1 or 2 ingredients on the prize page. They could also find cooking class tickets (needed to learn or level up recipes), cooking vouchers (needed to cook a dish), gold and experience points. There is always 5 square banners on top of the claim page. When a user clicks the prize page icon in the top surfbar of a traffic exchange, the prize page opens in a new window.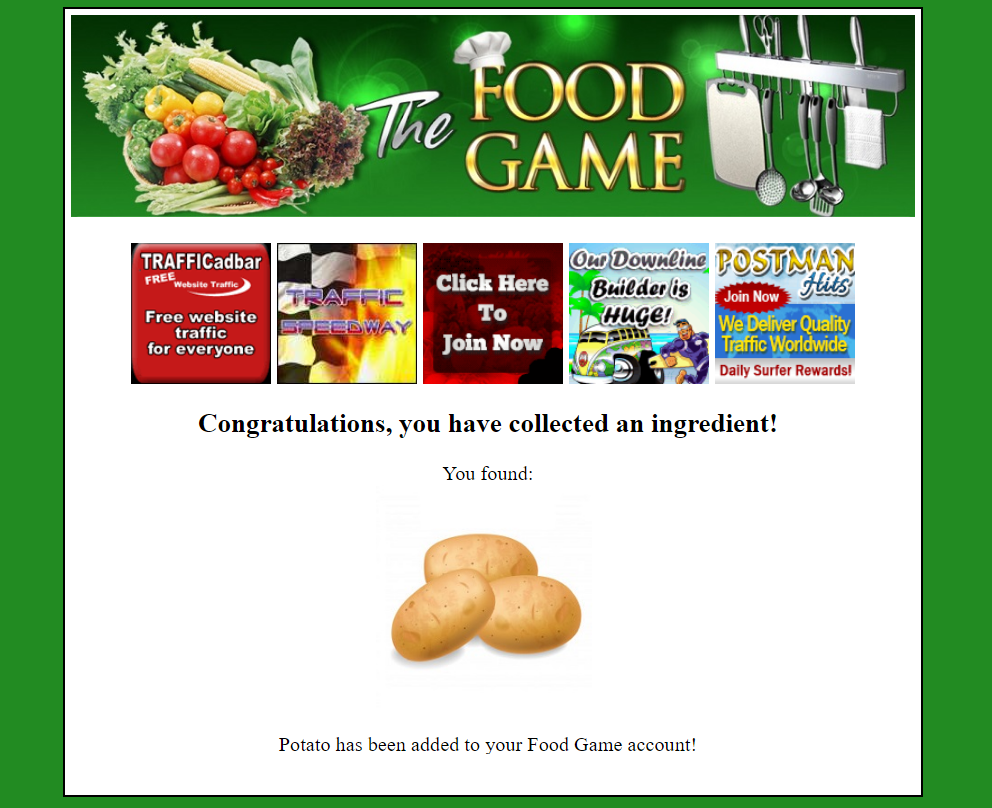 If a user waits more than 30 seconds to click the prize page icon, they will see a message saying the link has expired. This is to ensure users are active and paying attention while surfing in your traffic exchange.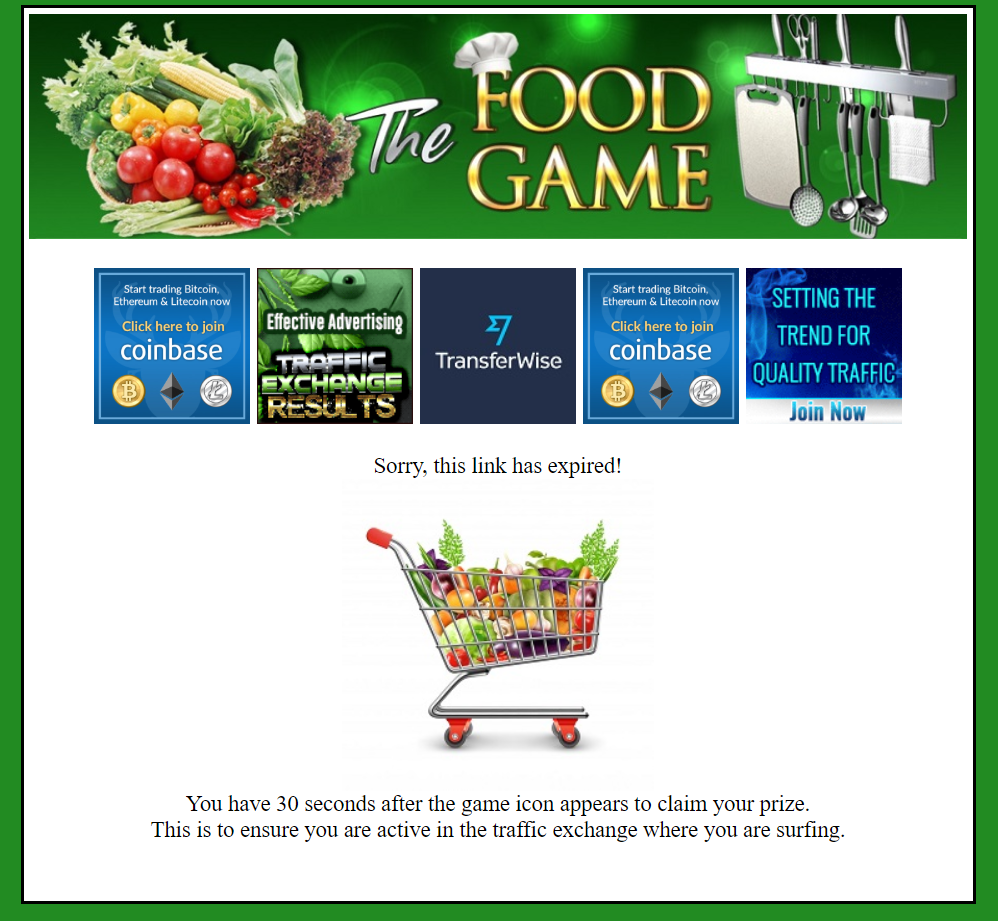 If a user is not a member of the Food Game, or has not filled in their referral ID for the website where they are clicking the prize page in our downline builder, they will see this note with instructions on how to do it. There is also a link to join the Food Game with your referral ID there.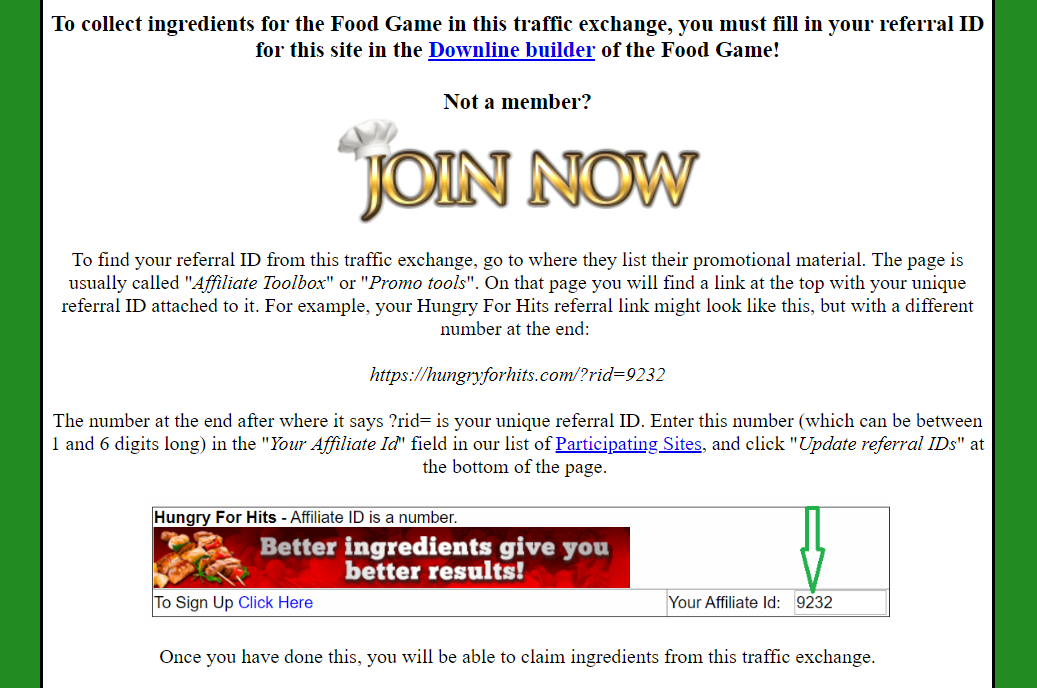 Recipe book and Kitchen




The Recipe book is where users can see all the recipes they have learned, and which level the recipe is. Hovering the mouse over each ingredient will say the name of it.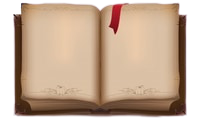 Once the user finds the ingredients for their recipe, those ingredients will have a green border around them, and a button to prepare the recipe appears next to it if they have found all the ingredients.





Users can also prepare the dish in their Kitchen area. While the Recipe book shows all their recipes with a green border around the ingredients they have, the Kitchen only lists the recipes they have found all the ingredients for and can cook.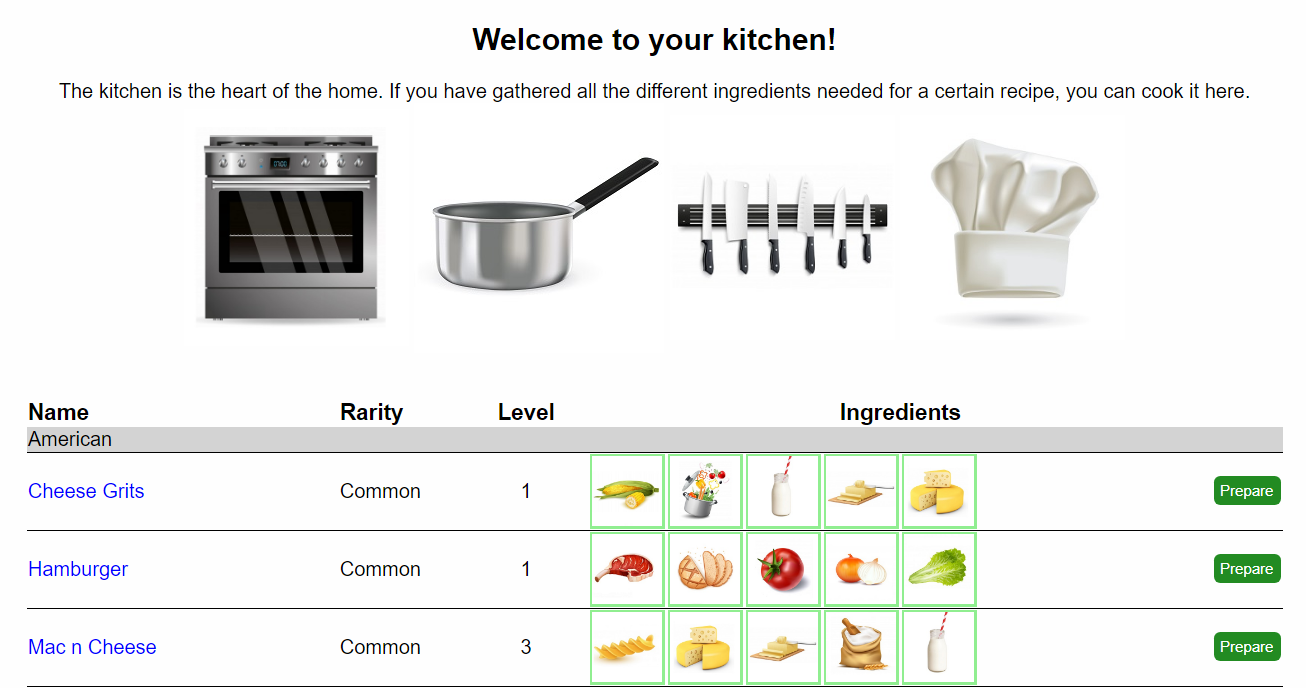 Ingredients




There is a page called My Ingredients where users can see all the ingredients they have, and how many of each.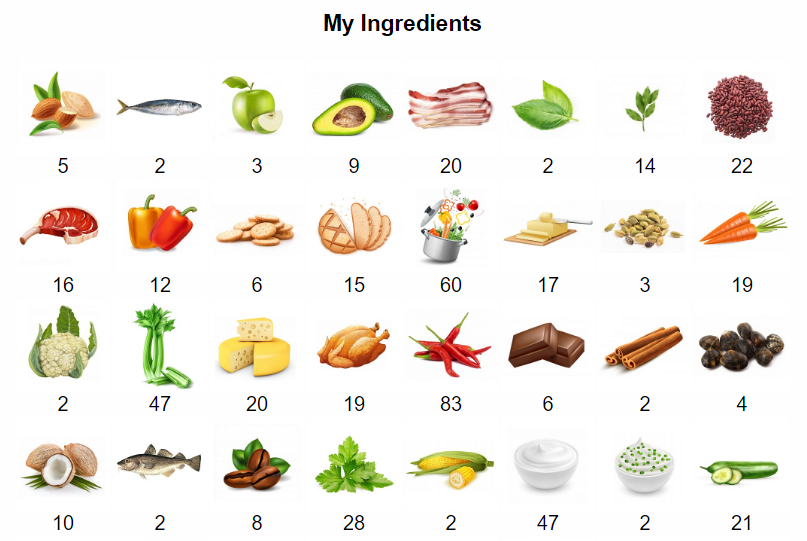 There is also a page where users can see all the different ingredients in the game and which rarity level they have.








Points




When a user prepares a dish, 5 judges will score their dish. Each judge has a favorite and a most hated ingredient, as well as a preferred and a disliked cookbook. They can also be grumpy or extra generous with points on specific days.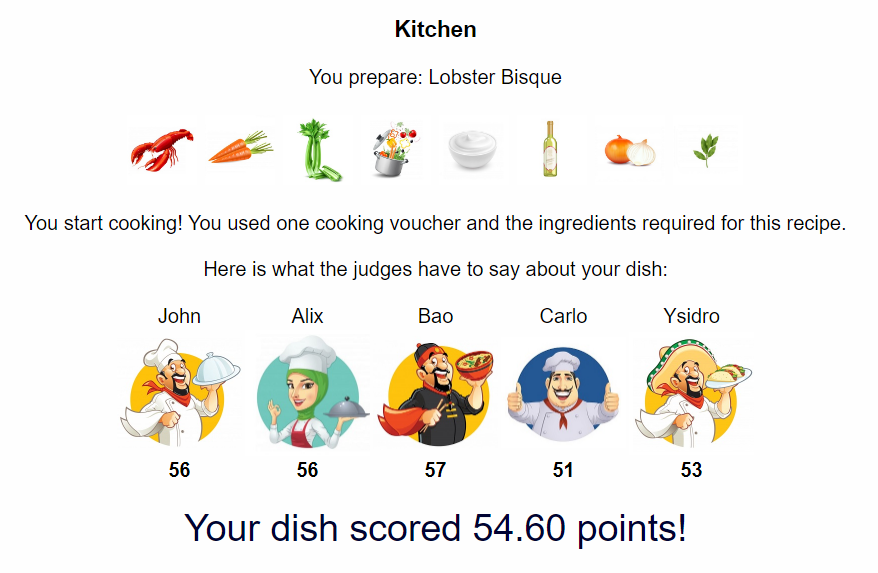 Users can see their current standings on the Leaderboard, where the top players of each is displayed.



There is also a stats page where people can see in which traffic exchanges most prize page claims are made, and which members are the highest level.



Member area




Each day a user logs in, they can claim a gift from their member area.





The member area is also where users can see the weekly featured traffic exchanges, Tasty and Delicius sites, and book them.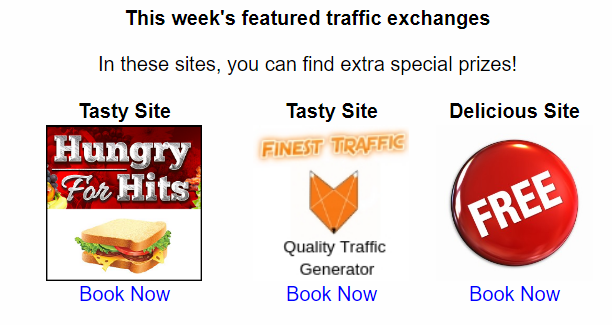 Promoting




Users can build downlines in many levels through our list of participating sites. Users are required to enter their referral ID for a traffic exchange in order to be able to claim ingredients from there. That means, even if you just get 1 referral, you may get signups to all the participating sites from all their referrals in infinite levels. You also earn commissions if your referrals purchase advertising or upgrade their account. Here are some examples of the promotional material: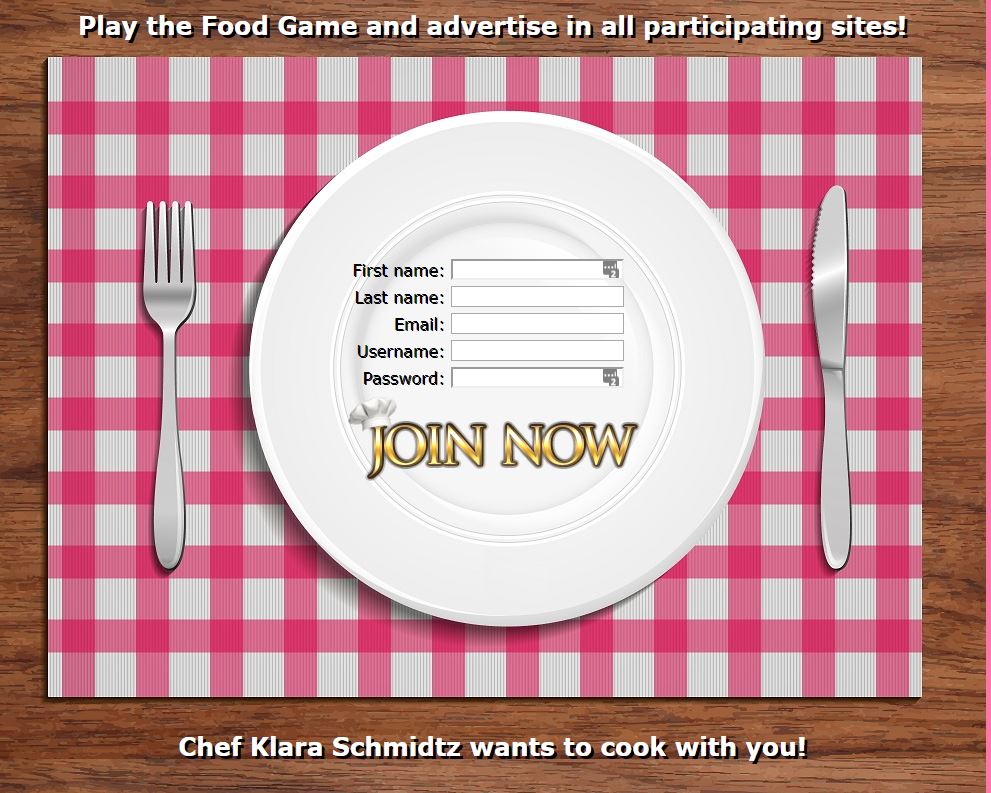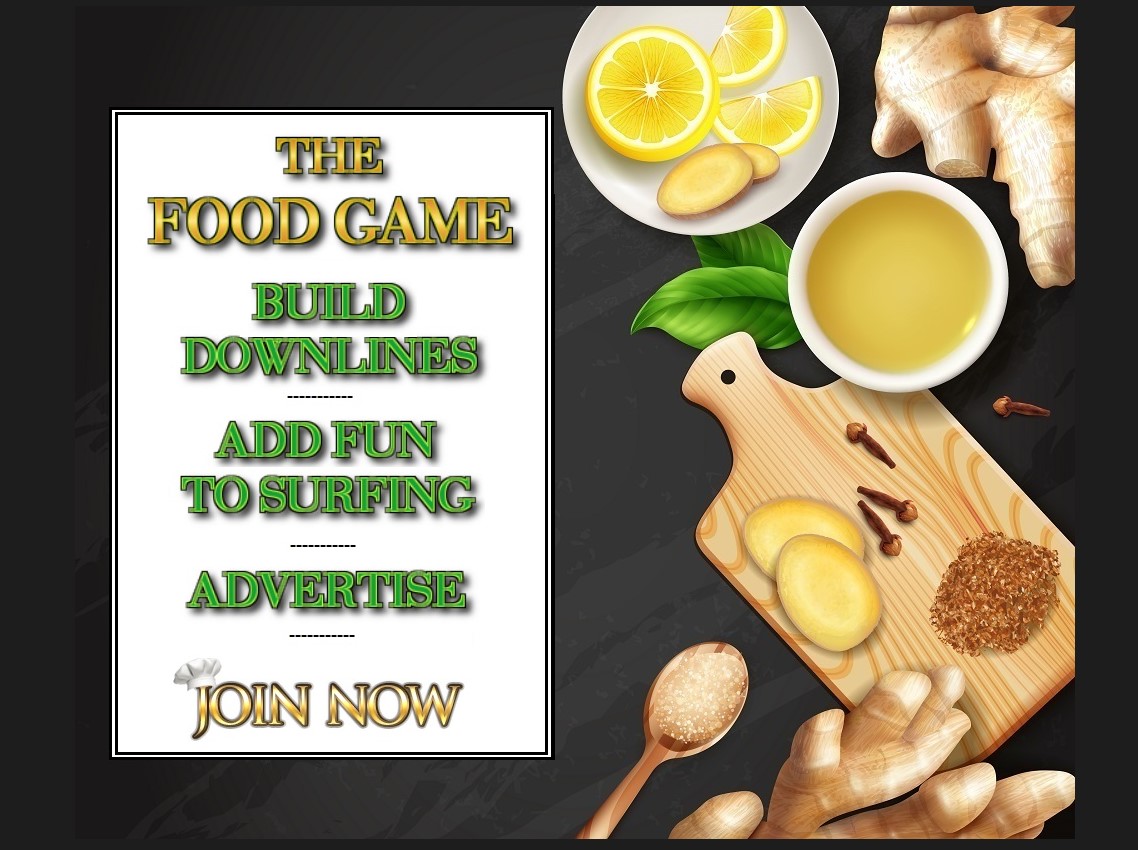 Become a partner




If you want to add your traffic exchange to the Food Game, begin with sending an email with the sites you want to offer the game on to:



foodgame.help@gmail.com

Thank you for reading!

Kindest regards,
Klara & Gianluca